Beyond the standard organic and paid listings, Google might include one or more special features in the search results. Special features differ depending on the phrase being searched. They can show up above or somewhere in between the standard organic results. Let's explore the most popular special features and break down everything you need to know about Google's new special features!
Google's New Special Features
The Featured Snippet
A featured snippet provides a quick answer right on the search engine results page.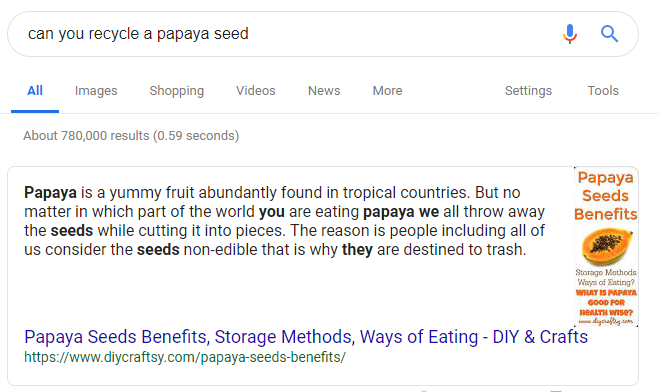 It's called a featured snippet because unlike regular organic listings, the page's description, or "snippet," comes first. The usual format is reversed.  
Featured snippets appear above the standard organic results and all other SERP features.
Originally, when a webpage was in a featured snippet position, the page also appeared as a regular organic search result listing on page one of the search results page.
Now, pages that occupy a featured snippet position will no longer be repeated as an organic listing on page one. 
See the tweet below on the matter directly from Google's Danny Sullivan:

As Sullivan states, featured snippets count as one of the ten organic web page listings on page one. So, if you come across a featured snippet at the top of the SERP, it's counted as the #1 organic search result.
In other words, a web page only gets one chance to appear on page one.
When can you expect to see a featured snippet? According to Google, "We display featured snippets in search when we believe this format will help people more easily discover what they're seeking, both from the description and when they click on the link to read the page itself. It's especially helpful for those on mobile or searching by voice."
There are three kinds of featured snippets, based on the type of query and the format of the answer:
Paragraph Snippets

(the most common) – an answer given in a text-format

List Snippets

 – an answer given in the form of a list

Table Snippets

 – an answer given in a table
Local Pack
If a search phrase has local intent or includes a geographical name (such as "poke bowl near me" or "best bagel in NYC"), Google will display a local pack.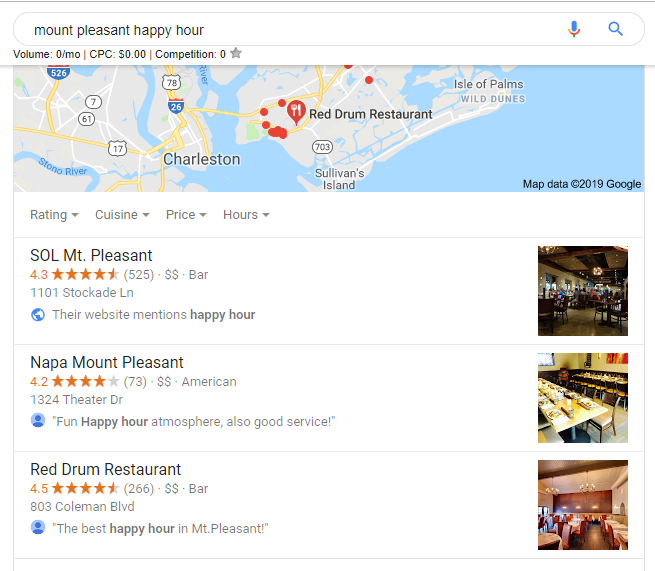 The local pack appears at the top of the SERP, above the standard organic results. On mobile, the local pack takes up significant screen space.
The local pack includes a map and three locations. In addition to the name of each location, the local pack may include business addresses, phone numbers, star ratings, hours, short descriptions, images, website links, and other details.
Sitelinks
If a user searches for an exact business name or domain where Google can clearly determine that there's definite brand intent, a typical organic result might be enhanced with additional links. Up to 10 extra site links might be displayed in the SERP.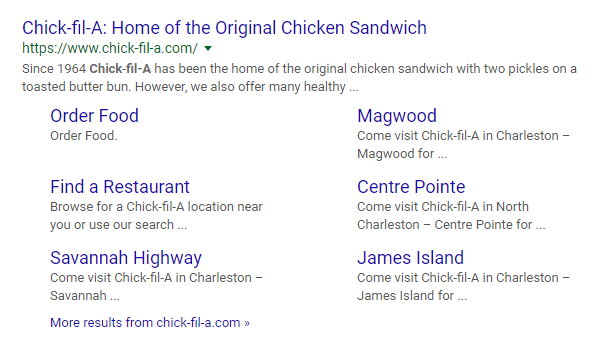 If all ten site links are listed, they'll show up in two columns, effectively taking up the first five organic search results.
Knowledge Panels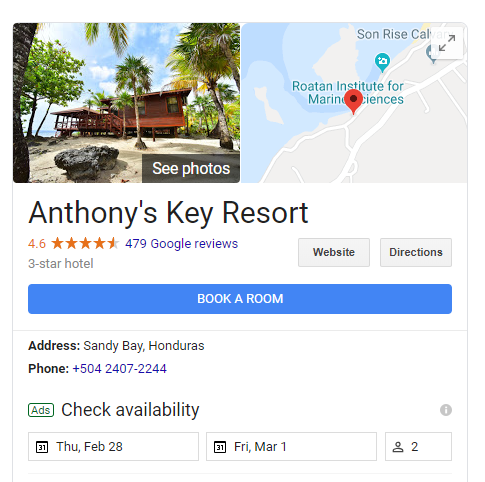 In the hospitality world, Knowledge Panels are most relevant when a user does a branded search. For a branded client search, such as "Anthony's Key Resort," a knowledge panel will typically show up on the right side of the SERP (on desktop) or at the top of the organic results below Ads (on mobile).
Knowledge panels are not guaranteed, but if there's enough information available about your business, Google will most likely display it. Most of this information is pulled from Google My Business, so it's critical to have an optimized GMB listing.
Knowledge Panels also show up when you search for specific people, places, events, movies, shows, books, albums, etc.
People Also Ask (Related Questions)
If the phrase you're searching tends to lead to additional questions or searches, Google could include related questions in the SERP. Labeled "People Also Ask," this feature shows a drop-down accordion box that expands with an answer when you click on a question. As you click on questions, more questions will be added to the bottom of the box. 

Note: Answers to these questions look similar to a featured snippet. In fact, the answers displayed are also the featured snippets that display for each individual question.
Videos (Featured Clips)
Featured snippets aren't only for written content, they can show up for videos as well.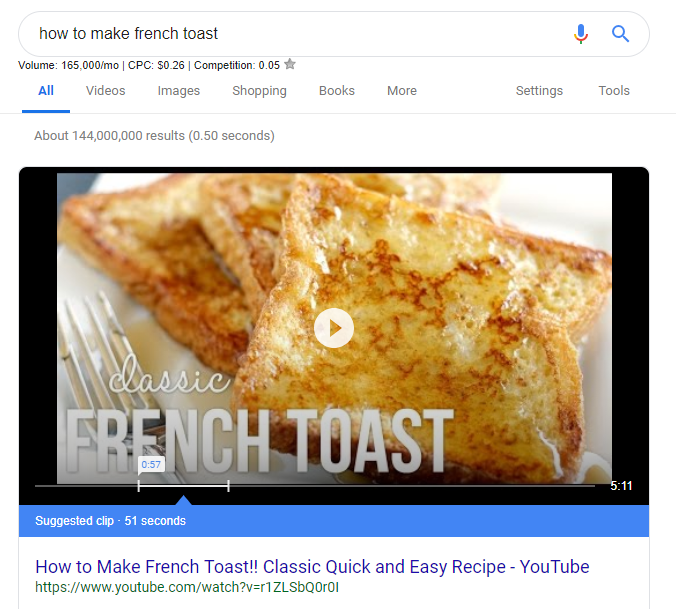 When can you expect to see videos in search results?
Featured clips tend to show up for "how-to" searches that are highly visual. A lot of times users are looking for step-by-step instructions.  
YouTube videos are most likely to get displayed, but other hosts can be featured as well.
FUN FACT: Featured video snippets or "featured clips" will auto-start at the exact section of the video that answers the query.
Images
If Google determines that visual content would be a valuable answer to the query, an image pack might be displayed.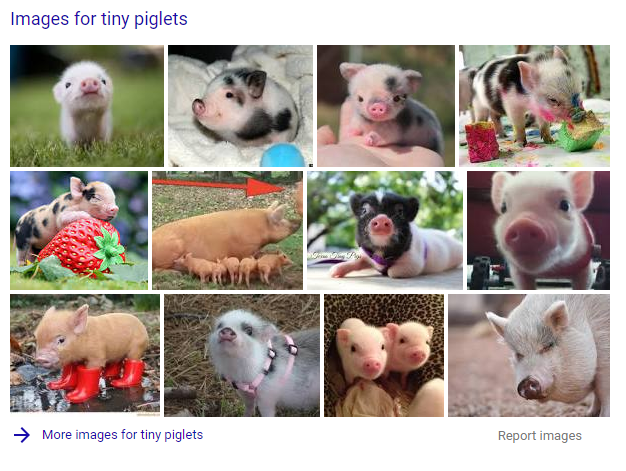 Image packs can appear at any position on the SERP. They show a horizontal row(s) of images that click through to a Google image search.
Reviews

Reviews supplement standard organic listings with yellow star ratings under the URL. They can appear for any search query if results have reviewable content and the right markup.
Instant Answer (Answer Box)
The answer box shows up when Google can give a short and definitive answer to a question like "how many ounces are in a pint." The goal is to provide quick answers to basic questions.

The information in an Instant Answer is taken from the Knowledge Graph — Google's database that gathers information from a variety of trustworthy sources. In this case, Google doesn't usually link to external websites.
There are tons of different types of Instant Answers for specific questions about people, events, scientific facts, sports, transportation timetables, etc.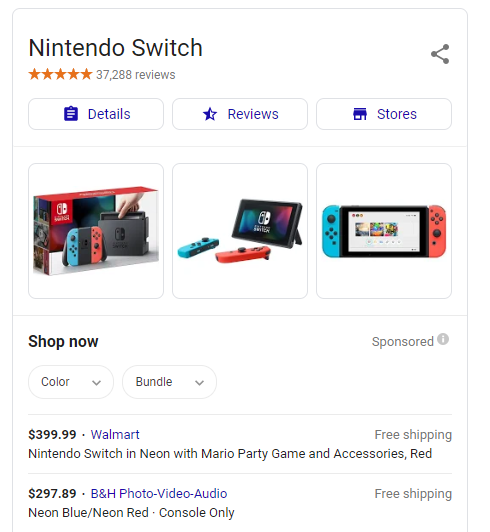 Shopping Ads
Shopping Ads is a special block of Adwords that's designed to sell products directly from the SERP.
Shopping Ads or Product Listing Ads (PLAs) show up for queries with product names. They are paid results.
Typically they're displayed in a carousel format across the top of the SERP above regular Adwords or to the right of the standard results. They include clickable images, price information, and star ratings.
News Box
If you're searching something that's newsworthy or relevant to current events, you might see a news box in the search results labeled "in the news" or "top stories."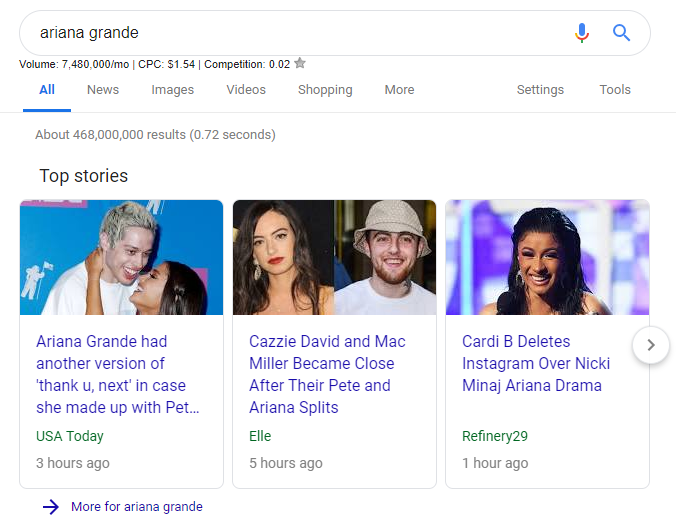 These results are pulled from Google News and include links to articles, time stamps, and publisher names. News boxes typically show up in the top half of the SERP, but sometimes appear in the middle, the bottom, or beyond the first page.
For small websites and publishers, it's unfortunately very hard to get into Google News.
Tweets
Sometimes, tweets are displayed directly in the SERP, mixed in with standard organic results.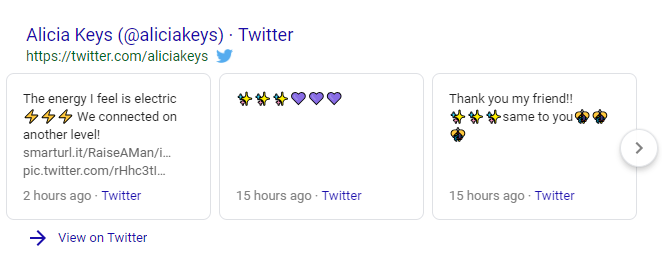 These are often recent and trending tweets from both verified and unverified accounts.

Double-Snippet SERPs
Something crazy has been happening lately. Google is showing some double featured snippets! 
Example: for the search "garden needs full sun?" Google displays this: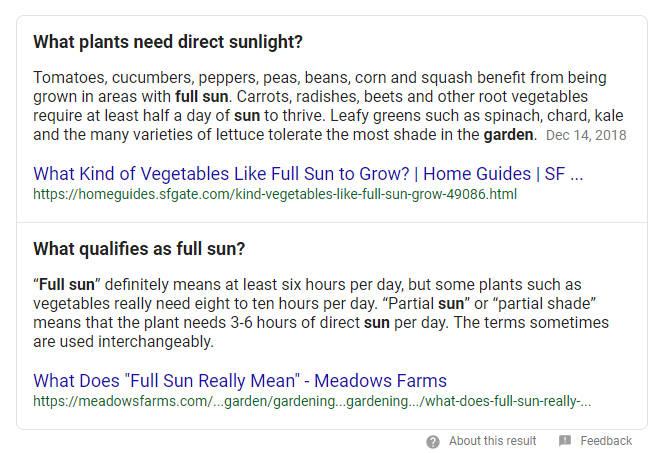 You can learn more about double snippets here.
Keep Learning about Google's Special Features
If you want to learn more about SEO we can help by creating your Free Hospitality SEO Marketing Grader or by signing up for our Hospitality SEO 101 email course. 
Can't get enough of Featured Snippets? Feel free to read some of the latest news from industry leaders: